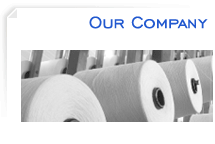 It's a company born by bringing together highly qualified textile professionals working on development of different textile products in their own respective fields. Every new product developed is backed up by long experience of more then two decades.

It is the policy of our company to continually develop and add new products in our sales list.

All the products designed by our company are for the easiness and comfort of human life , so they can live a better healthier and comfortable life. Technical Textiles is as independent company dealing in new innovative products

Company Moral values
We will always be straight and fair with our customers.
Always try to fight to our maximum to meet our customer requirement.
We will take care of our suppliers and treat them as our partners.
Give due respect to our working team.
Company Objectives

To stay in market like an old tree, grow slow and study, live years and years to come.

We plan to continuously work on

• Understand our customer's need.
• Improve product quality
• Improve productivity of our activities
• Continuously work to reduce wastages
• Improve integrated management system
• Better cost control.